About FEICA
A multinational association representing the European adhesive and sealant industry
FEICA turns 50 in 2022!
In the late 1950s, the first meetings of European producers of vegetable adhesives from five countries took place. In 1967, meetings started to include European producers of chemical adhesives. Finally, in 1972, FEICA (Fédération Européenne des Industries de Colles et Adhésifs) was formally founded. The German adhesives association in Düsseldorf served as the first location of the FEICA secretariat. FEICA moved to Brussels in 2007 in order to be closer to other European associations as well as to the European Commission itself.
Since its inception, FEICA has continued to grow and expand its areas of interest. With the support of its national associations and several direct company members and affiliated members, FEICA coordinates, represents and advocates the common interests of our industry throughout Europe. A quick overview of our members is available on our 'FEICA in brief' page.
In this regard, FEICA aims to establish a constructive dialogue with legislators in order to act as a reliable partner to resolve issues affecting the European adhesive and sealant industry.
FEICA today
The Association of the European Adhesive & Sealant Industry
FEICA is the voice of the European adhesive and sealant industry. Today's membership stands at 15 National Association Members (representing 16 countries​​​​​), 24 Direct Company Members and 19 Affiliate Company Members. This represents more than 450 companies from across Europe.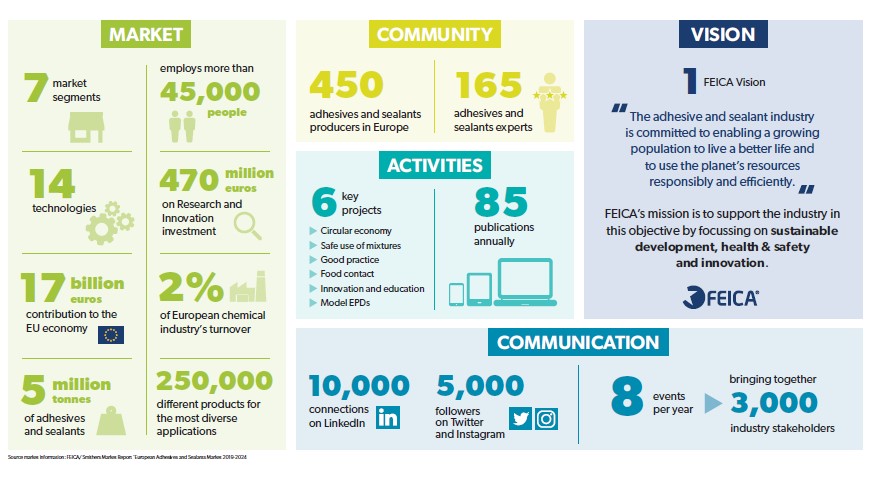 More information regarding our industry is available from the European Adhesive and Sealant Industry Facts and Figures 2020. In addition, you can purchase the FEICA Market Report 'Adhesives and Sealants Market 2019-2024'.
Please also see the FEICA brochure showcasing our industry's contribution to the economy and circular economy.
Mission statement
FEICA is a member-oriented, value-driven organisation representing the European adhesive and sealant sector. FEICA is committed to continuous improvement in its efficiency and effectiveness, and ensures a vigorous industry by:
Engaging with legislators and providing guidance to the industry on EU regulatory affairs and the safe use of our products

Fostering sustainable development within the industry

Providing advocacy and a platform for industry dialogue and knowledge sharing
FEICA's vision for sustainable development is defined as follows:
'The adhesive and sealant industry is committed to enabling a growing population to live a better life and to use the planet's resources responsibly and efficiently'.